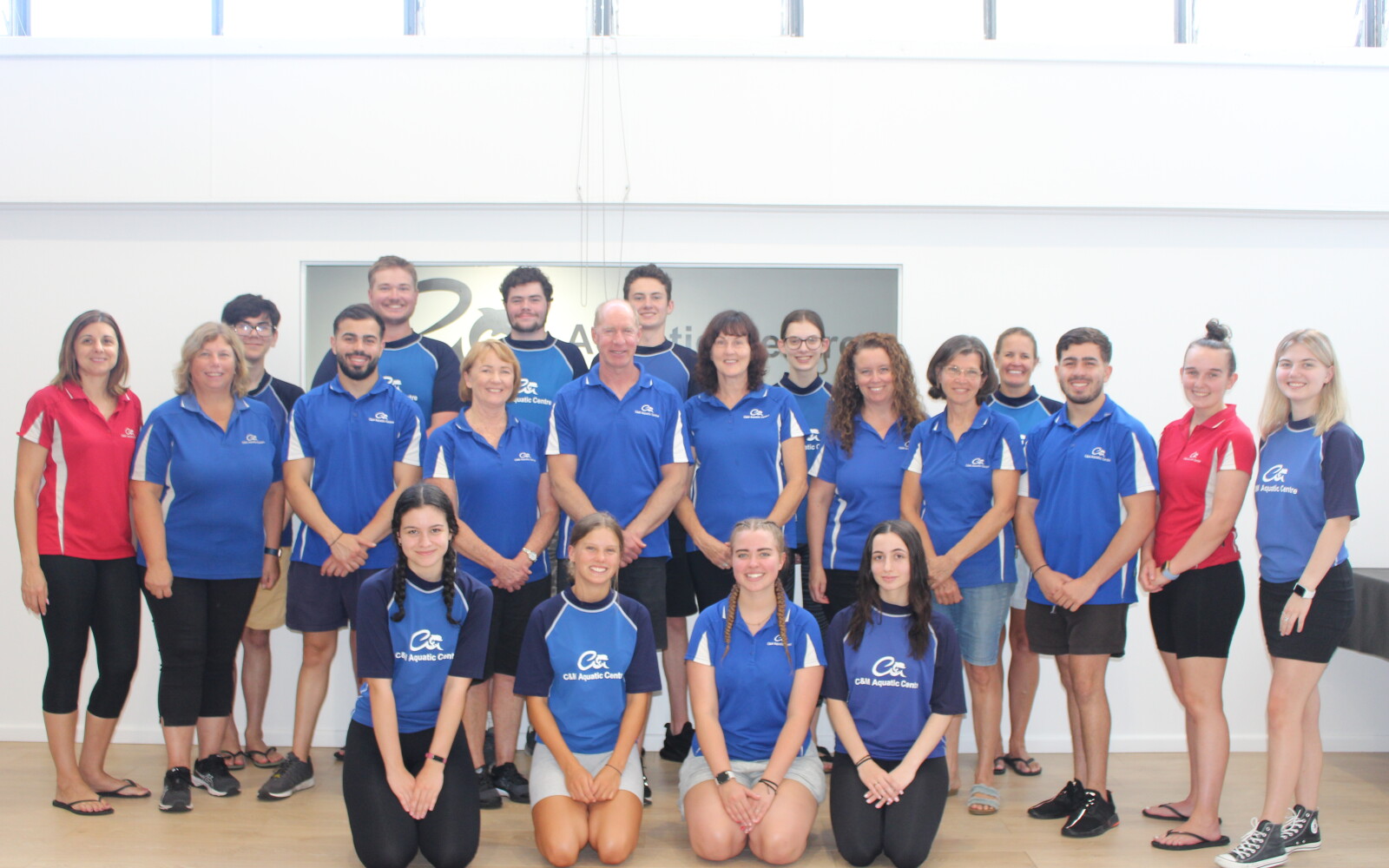 OPPORTUNITIES AT C & M AQUATIC CENTRE
At C & M Aquatic Centre we are always on the lookout for enthusiastic, reliable people to join our friendly team. We are passionate about swimming and dedicated to developing our staff to provide the best service for our customers. Click Here to read from previous staff members testimonials and see how C&M Aquatic Centre helped them with their future career pathways.
CURRENT POSITIONS AVAILABLE: SWIM INSTRUCTORS

---
SWIM INSTRUCTOR
Hours of Work:
Shifts available Monday to Friday 9.00am to 12.00pm, 3.30pm to 7.00pm and Saturday 8.00am to 12.00pm.
Successful applications are expected to commit to a minimum of 2 shifts per week.
Swim Instructor Applicants must be either qualified swimming instructors or willing to obtain the relevant qualifications. On the job training is provided with ongoing training throughout employment with C&M Aquatic Centre.
HOW TO OBTAIN QUALIFICATIONS AS A SWIM INSTRUCTOR

1. Complete a "Teacher of Swimming and Water Safety Course"
This can be done with Royal Life Saving NSW, Swim Australia or Austswim. These courses are held either over a day or a full weekend.
Here are the necessary links:
https://nsw.training.royallifesaving.com.au/course-details/?course_id=91567&course_type=w
https://scta.org.au/learn/teacher-courses-aquatics-courses/
https://oramsocb.austswim.com.au/coursefinder/
**Royal Life Saving are offering Funded courses for those who are eligible. See if you are eligible by clicking the link below
https://www.drowningprevention.org.au/pathways/funded-training

2. Complete training hours
As part of the accreditation you must perform a number of training hours in the water with a supervising qualified instructor. The number of hours is dependent on how quickly you pick up the information. We provide access to do the training hours at our facility under an Internship Agreement. We will train you up on our specific swimming program and provide feedback throughout your training.

3. Get assessed
Once you feel confident enough to take on a class independently we arrange for a qualified assessor to assess your teaching skills. The assessor will then sign you off as a qualified instructor.
As part of the qualifications you must hold a current Working With Children Check and CPR Certificate.
It is recommended that you do a couple of training hours with us before doing the Teaching Course to ensure this line of work is a perfect fit for you.

BENEFITS OF BECOMING A SWIM INSTRUCTOR AT C&M AQUATIC CENTRE
Working as a Swim Instructor is an extremely rewarding job.

​You will be working with kids from the age of 6 months through to adults.

You will expand your skill set by learning how to teach an array different personality types and children with learning difficulties.

You will see the progression in children as they learn a life saving skill.

It is a highly regarded qualification and experience to have on your resume.

We provide on the job training and continual development throughout your employment.
HOW TO APPLY
Send your resume to contact@cmaquaticcentre.com.au with a cover letter answering the questions below:
1. What interested you in applying for the Swim Instructor position at C&M Aquatic Centre?
2. What days and hours are you available to work?
3. How many hours and days do you hope to work per week?
4. If you were successful in gaining this position, for how many years would you like to be working as a Swim Instructor? (i.e. do you have a university course or TAFE course you are currently completing)
Here's your chance to be involved in something you'll enjoy as well as contributing to saving young lives through the art of swimming!