Welcome to C&M Aquatic Centre
Welcome to C&M Aquatic Centre
History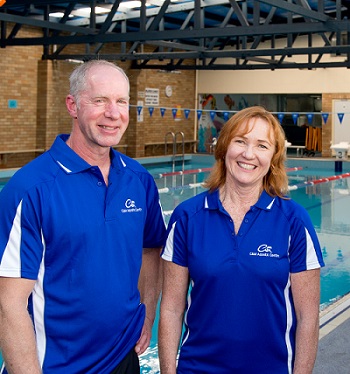 C&M Aquatic Centre is a family owned business that has been providing swimming lessons for more than 27 years. The owners Colin and Margaret first noticed the importance of swimming lessons and water safety when their daughter commenced swimming lessons at a local swimming pool. Wanting to contribute to the safety of children in and around water, Colin and Margaret started teaching swimming lessons in 1994.
Today C&M Aquatic Centre is a well established swim school in Padstow providing learn to swim classes for parent & babies, children and school groups as well as Squad training for the beginner to elite swimmer.
Over the years, C&M Aquatic Centre has continually developed their quality swimming program that has proven to achieve great results. All swim instructors employed at the Centre are fully qualified and receive ongoing training to ensure their skills are up to date. Colin and Margaret are both passionate about teaching students how to swim and strongly believe that swimming is a fundamental skill and a gift for life!


Mission Statement
"At C&M Aquatic Centre our mission is to provide small, quality learn to swim classes offering individual attention from our infant through to adult classes. We have experienced qualified instructors that continue to receive ongoing training. We aim to have a safe, clean and friendly environment where students can gain from a positive learning experience."
Values
Awareness
Staff are always aware of students and activities in our Centre
Quality
Quality Instructors, a quality swim program and quality customer service
Unique
Each student is treated as an individual and our unique swim program is adapted to the student's needs to get the best results
A gift for life
Swimming is a fundamental skill that once learnt can save lives
Trust
Parents and students trust that our instructors will provide a safe learning environment whilst under their care
Individual
We have small classes offering individual attention to students
Cleanliness
Our Centre is cleaned thoroughly to ensure a safe environment